Welcome to the realm of the...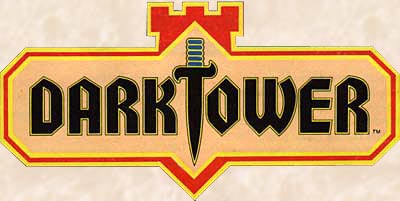 Dark Tower™ was an electronic fantasy boardgame produced by Milton Bradley in 1981. Here is some information on the game and how it played.
This page created on: 09/01/97. Last changed on: 06/20/19.
Dark Tower returning in 2020?
Check out Floyd Resler's Dark Tower app for iOS!
Check out Muse of Water's Dark Tower app for Android!
Finally got around to uploading the Dragonlords special cards for DragonMaster.
Rock to Esotronica's Dark Tower remix!
I have posted a brief interview with Bob Pepper, the artist responsible for the artwork in Dark Tower, as well as Michael Bommer's Java version of Dark Tower, and Paul J. Taylor's Flash version.
Check out Don Harkness' working LEGO Dark Tower!
Check out the Dark Tower mod for Tabletop Simulator!
---
| | | |
| --- | --- | --- |
| | Dark Tower™ is a trademark of Milton Bradley Company. The images from this site are taken from the game manual, and used without permission. | |
Your questions and comments? Read the FAQ.