*This page last updated: 23 May, 2020 13:19 PST. (Log of recent changes)
Sid Meier's CIVILIZATION VI: New Frontier
On May 11, 2020 2K announced a new series of DLC for Civilization VI titled the "New Frontier Pass." It is a series of six add-ons slated to release from May 21, 2020 bimonthly through March 2021. The series will be sold together as a single "premium pass" for US $39.99 / £32.99. The lead designer on the project is Anton Strenger, who was previously lead designer on the Rise and Fall expansion.
Release Schedule
Pack #1: Maya & Gran Colombia Pack. Adds two new civilizations and leaders, one new game mode (Apocalypse)*, new City-States, Resources, and Natural Wonders. Available May 21 2020.
Pack #2: Ethiopia Pack. Adds one new civilization and leader, one new game mode (Secret Societies)**, one new District and two new Buildings. Available July 2020.
Pack #3: Adds two new civilizations and leaders, one new game mode**, new World Wonders, and one new map. Available September 2020.
Pack #4: Adds one new civilization and leader, one new game mode, new City-States, and numerous new Great People. Available November 2020.
Pack #5: Adds one new civilization and two new leaders***, one new game mode, a new District, and two new Buildings. Available January 2021.
Pack #6: Adds one new civilization and leader, one new game mode, new World Wonders, and one new map. Available March 2021.
*Apocalypse game mode requires the Gathering Storm expansion to play.
**Secret Societies game mode requires either the Rise and Fall or Gathering Storm expansions to play.
***New leader requires Rise and Fall expansion to play.
The individual packs can be purchased separately at an increased price. Players who pre-order the whole New Frontier Pass will also receive the Teddy Roosevelt and Catherine de Medici Persona Packs. The Persona Packs re-tools the leaders with a new leader model and background, plus new gameplay bonuses, and an updated agenda. The Persona Packs will be released with the second DLC in July.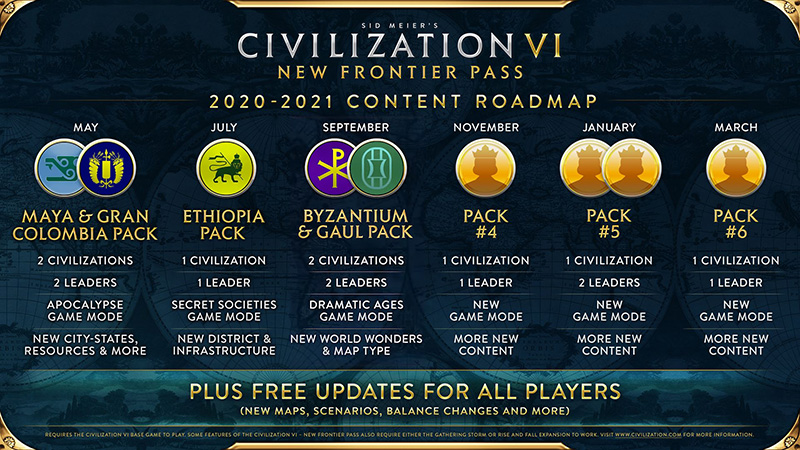 Features
New Game Modes
These are alternate modes for play, similar to mods; one will be included in each of the six DLC. At least some of them will "take some creative liberties with history." Some may include new units, buildings or tile improvements. Some require specific expansions (see above). They aren't scenarios like Red Death or Black Death; rather, they are systems and/or content additions to a normal game, and you can turn on as many as you want (Anton Strenger).
Apocalypse Mode
The first new mode arriving with the Maya & Gran Colombia pack will build on the disaster system in Gathering Storm (which will be required to use this mode). New disasters include comet strikes, forest fires, meteor showers and solar flares. There is a new Soothsayer unit which you can send to call down disasters on your enemies.
According to Anton, two of these new disasters will be added to the base game.
"The Maya & Gran Colombia pack adds 2 new disaster types for any game with Gathering Storm...these will scale along with your chosen intensity. Apocalypse Mode and its 2 special disasters will lock the intensity slider and turn it way up high behind the scenes."
New Unit – Soothsayer

Can call upon the God of Destruction to cause a Natural Disaster. Doing this requires a Unit Charge. Once all charges have been used, the unit is removed.
Unit starts with 1 charge, but additional charges can be gained through their promotion tree.

New Scored Competition – "Appease the Gods"

Players can use Soothsayers to sacrifice units to a volcano to gain points.
Soothsayers gain a new action: Appease - Target a friendly unit adjacent to a volcano and sacrifice them to gain score equal to their production cost.
Rewards include a free Soothsayer, Soothsayer promotions, and additional Faith per turn.

New Game Ending Final Climate Stage – The Apocalypse

The world enters the Apocalypse upon hitting the final temperature increase.
Disasters are more powerful, frequent, and capable of destroying entire Civilizations over several turns.

New Disasters

Comet Impact: Smashes into land tiles destroying improvements, units, districts, or even cities in the impact zone. Impacted tiles are replaced with an impassable Comet Lake.
Solar Flares: Affects the entire map. Pillages power-generating districts/buildings/improvements (except the Dam). Damages advanced units (GDRs especially).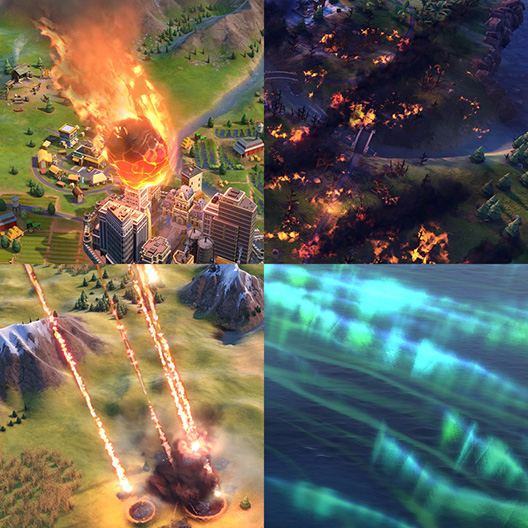 Secret Societies mode
Due in the Ethiopia pack in July.
New Civilizations
New Frontier adds 8 new civilizations plus one additional new leader. The additional new leader (due in pack #5 in January) requires Rise & Fall, so it is presumably for one of the Rise & Fall civilizations.
The premium pass also adds new alternate versions of Teddy Roosevelt and Catherine de Medici (presumably similar to the two versions of Eleanor of Aquitaine). "Two of Civilization VI's leaders are transformed with a new look and new abilities when you lead America and France! "Rough Rider Teddy" excels at keeping the peace on his home continent, and "Magnificence Catherine" can use Luxuries to overwhelm the world with Culture and Tourism."
(items in braces are unconfirmed, based on partial information)
Special Abilities
Mayab (Maya): Settling adjacent to Fresh Water and Coast do not provide extra Housing. Instead each Farm provides an additional +1 Housing and +1 Gold. +1 Amenity for every Luxury adjacent to the City Center.
Ejercito Patriota (Gran Colombia): +1 Movement to all units. Promoting a unit does not end that unit's turn.
Leader Bonuses
Ix Mutal Ajaw (Ix Wak Chan Ajaw): Non-capital cities with 6 tiles of the Capital gain +10% to all yields. Other non-capital cities receive -15% to all yields. +5 Combat Strength to units within 6 tiles of the Capital.
Campana Admirable (Simon Bolivar): Earn a Commandante General when the game enters a new era.
Historical Agendas
Solitary (Ix Wak Chan Ajaw): dislikes encroaching civs and she tries to keep her cities in a cluster near the capital. But this one doesn't go as far as the "Paranoid" agenda; she won't look at your military strength as long as your troops are keeping their distance.
Carabobo (Simon Bolivar): respects other leaders with highly promoted units and focuses on that himself by building Encampments. He looks down on those who don't take care to build an elite army like he does.
New City-States
Pack #1 adds 6 new city-states. Mitla replaces Palenque, keeping the same bonus.
| | | | |
| --- | --- | --- | --- |
| City-State | Icon | Type | Unique Suzerain Bonus |
| Caguana | | Cultural | Grants access to Batey improvement, which grants Culture based on its placement. |
| Singapore | | Industrial | Production bonus for each foreign trade route. |
| Lahore | | Militaristic | Grants access to a Faith-purchased combat unit – Nihang – with a unique promotion tree. |
| Vatican City | | Religious | Religious pressure spread when activating Great People. |
| Mitla | | Scientific | City growth rate is 15% higher in cities with a Campus district. |
| Taruga | | Scientific | Science bonus per strategic resource in cities. |
| Hunza | | Trade | Gold bonus for trade route distance. |
Changes to Existing Leaders/Civilizations
Teddy Roosevelt and Catherine de Medici will receive new alternate versions for those who pre-order the "premium pass."
New Units
Presumably the eight new civilizations will each include at least one new unit. The press release makes vague reference to other new units, but these may be specific to new game modes. And, judging by the first known mode-specific unit, some of them may be quite silly.
Unit
Class
Era
Unlocked By
Move
Melee
Str.
Rngd
Str.
Range
AA
Str.
Base
Cost*
Maint.
Notes
Hul'che
Ranged
Ancient
Archery
2
15
28
2
-
60
1
Mayan UU; +5 str vs. wounded units
Commandante General
(civilian)
-
-
6†
-
-
-
-
-
-
Gran Colombian UU
Llanero
Light Cavalry
Industrial
Military Science
6†
62
-
-
-
330
20 Horses
2 gold
Gran Colombian UU; +4 str per adjacent Llanero
Nihang
Melee
-
Lahore Suzerain
2
25
-
-
-
200 Faith
2 gold
City-state special unit
Soothsayer
Support
-
-
2
-
-
-
-
100 Faith
4 gold
Apocalypse mode
*Cost (on Normal game speed) in Production or Faith for religious units, and strategic resources, if any
†Includes +1 Movement for Ejercito Patriotica
Hul'che
Unique Mayan archer replacement. +5 Combat Strength when attacking a wounded unit.
Movement: 2; Melee Strength: 115; Ranged Strength: 28; Attack Range: 2; Base Cost: 60 Production; Maintenance: 1 Gold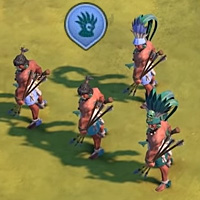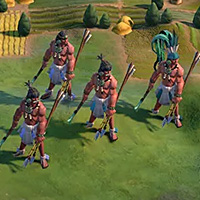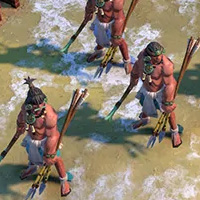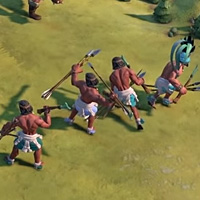 Llanero
Gran Colombia cavalry replacement. Low maintenance cost. +4 Combat Strength for every adjacent Llanero. Fully heals when in range of a Commandante General that activates its retire ability.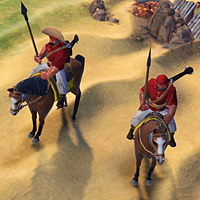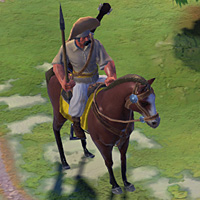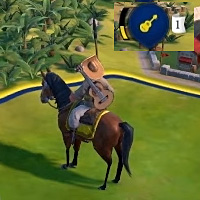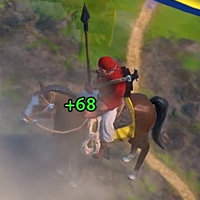 Commandante General
Unique version of the Great General for Simon Bolivar. Colombia earns one with each new era, and this appears to be in addition to normal Great Generals earned through great person points. Commandante Generals receive unique bonuses and retirement abilities. Retirement heals any Llaneros in range.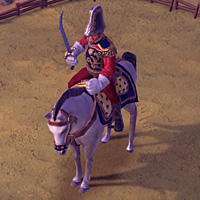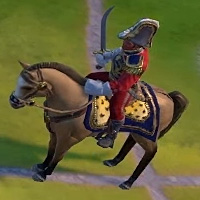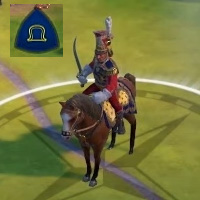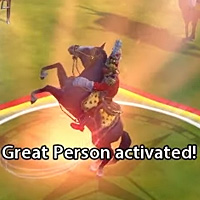 Nihang
Movement: 2; Combat Strength: 25/40/55/70; Base Cost: 200 Faith; Maintance: 2 Gold per turn
This is a special unit unlocked with suzerainty of Lahore. It has a unique promotion tree and is purchasable with Faith. Combat Strength is increased with Barracks, Armory and Military Academy buildings are first constructed. These upgrades also change the unit's appearance, adding a shield, musket, and finally a rifle.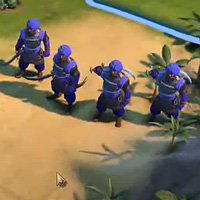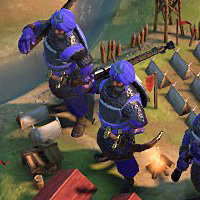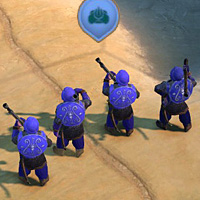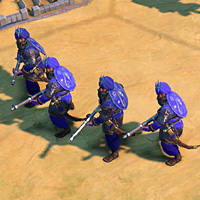 Here is the Nihang's promotion tree: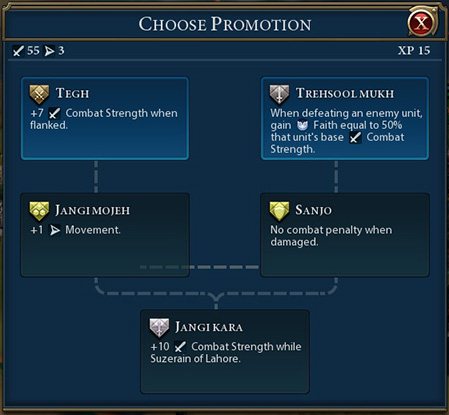 Soothsayer
Movement: 2; Charges: 2; Cost: 100 Faith; Maintenance: 4 Gold
This is a unit specific to the Apocalypse mode that you can send into foreign territory to trigger natural disasters. Soothsayers are bought with Faith. Soothsayers are destroyed if attacked by a military unit.
Can call upon the God of Destruction to cause a Natural Disaster on the current tile. The disaster is appropriate to the current tile; for example, a sandstorm will be called on a desert tile. Doing this requires a Unit Charge. Once all charges have been used, the unit is removed. Unit starts with 2 charges, but additional charges can be gained through their promotion tree. The Soothsayer has its own promotion class. Must be at war with the owning player to cause a disaster in foreign territory, but you're free to call disasters in your own territory.
During the "Appease the Gods" competition, the Soothsayer gets an additional Sacrifice Unit ability. Must be adjacent to a volcano to sacrifice an adjacent unit.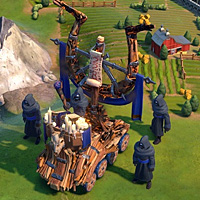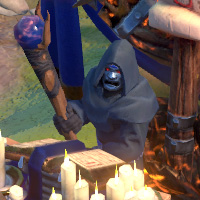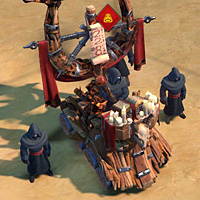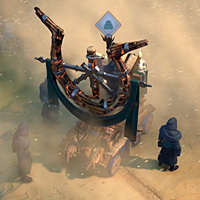 New Buildings and Districts
Observatory
Campus district replacement for the Maya. Cheaper than a Campus to build. +2 Science bonus per adjacent Plantation, +1 Science bonus per 2 adjacent Farm or district tiles. +2 Science per adjacent Pamukkale tile.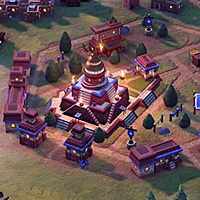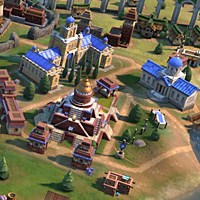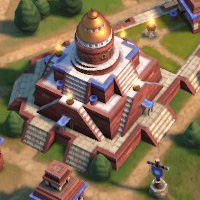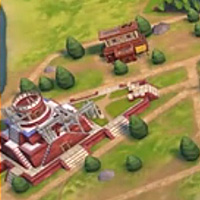 New Tile Improvements
Hacienda
Requires: Mercantilism
Unique improvement for Gran Colombia. +2 Gold, +1 Production, and +1 Housing. +1 Food for every two adjacent Plantations (increased to every Plantation with Replaceable Parts). Plantations and Haciendas received +1 Production for every two adjacent Haciendas (increased to every Hacienda with Rapid Deployment). Can only be built on Plains, Plains Hills, Grassland, and Grassland Hills.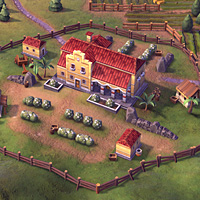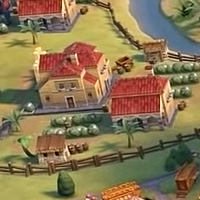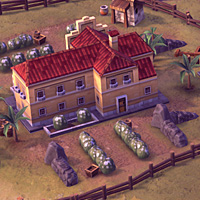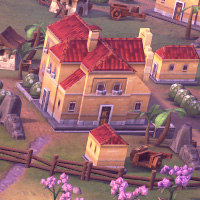 Batey
Unique improvement for the Cagua city-state. Yields +1 Culture, +1 Culture for every adjacent Bonus Resource and Entertainment Complex (increased to +2 Culture when Exploration is discovered). Provides Tourism after researching Flight. Cannot be built adjacent to another Batey or on Hills.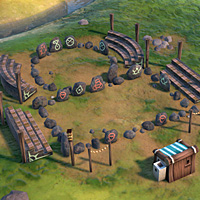 New Terrain Features
Honey
Luxury resource, improved by a Camp.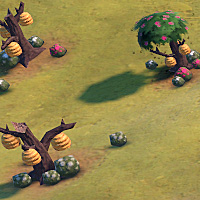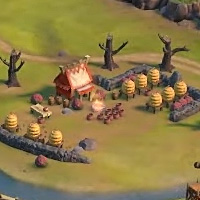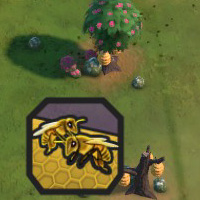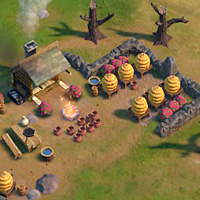 Maize
Bonus resource, improved by a farm. (Ironically, I only just now noticed that the icon for food has been an ear of corn all this time.)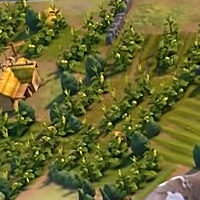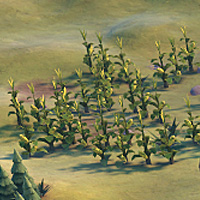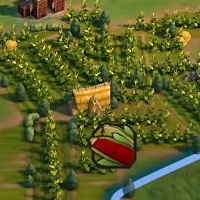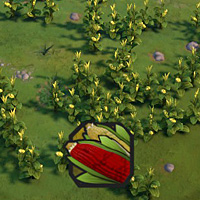 Meteor Site
Meteor showers leave craters on the tile struck. Being the first to visit these craters with a unit will award a free heavy cavalry unit of your technology level. The craters are removed upon visiting.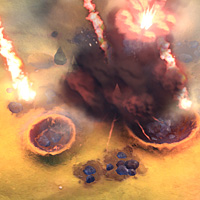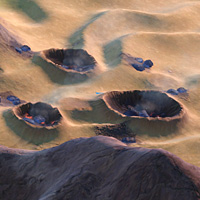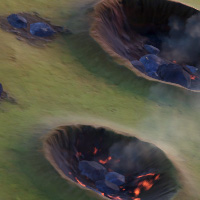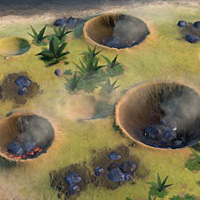 Natural Wonders
Fountain of Youth
Maya & Gran Colombia pack. Grants units that pass it a healing buff.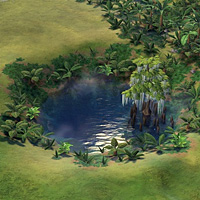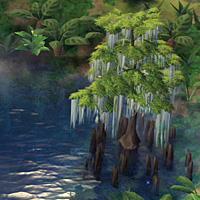 Paititi (El Dorado)
Maya & Gran Colombia pack. Gold bonus on trade routes for the city that controls it, major adjacency bonus for Commercial Hubs and Theater Squares.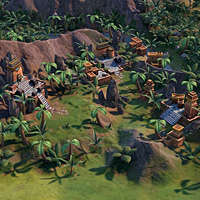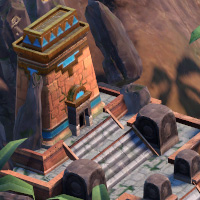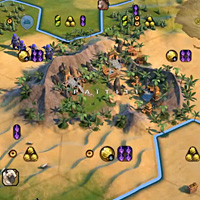 Bermuda Triangle
This is a new Natural Wonder with the Maya & Gran Colombia pack. Naval units that pass through it receive a movement bonus and get teleported to another ocean tile.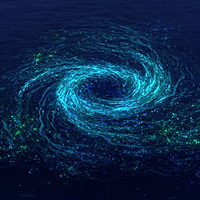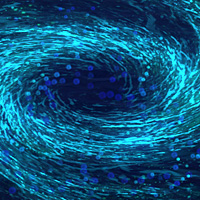 New Natural Disasters
Forest Fires
Starts in a random Forest/Rainforest and spreads to adjacent Forest/Rainforest/improved plots every turn. Tiles on fire damage units and pillage improvements. Forest/Rainforests grow back with additional bonus yields.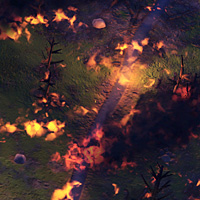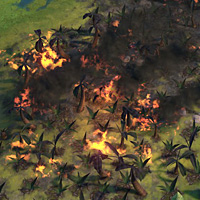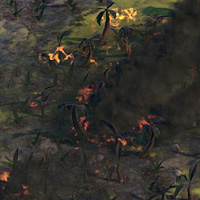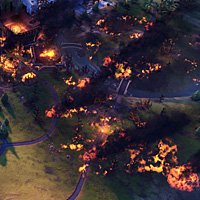 Meteor Showers
Pummels unowned land tiles pillaging improvements and damaging units. Exploring impact sites grants players a free Heavy Cavalry unit with no resource upkeep.
Preview Links
05/11 Official Announcement (Civilization.com)
05/11 Announcement video (YouTube)
05/11 Civilization 6 New Frontier Pass Delivers New DLC Every Two Months (IGN)
05/11 New Frontier Pass Set to Deliver Bimonthly New Content (AP)
05/11 Saxy Gamer preview (YouTube)
05/11 Potato McWhiskey preview (YouTube)
05/11 Short gameplay video (bilibili.com)
05/11 Interview with designer Anton Strenger (PCGamesN)
05/14 Lady Six Sky Leads the Maya (Civilization.com)
05/19 Simon Bolivar Leads Gran Colombia (Civilization.com)
05/19 4K Screenshots (2K.com)