*This page last updated: 24 April, 2012 12:15 PST.
Victory Conditions
Each of the Victory types is optional and can be disabled:
Domination Victory now goes to whichever civilization is the last one that is still in possession of its original Capital city. Capture of an enemy capital does not eliminate a civilization from the game; a different city will be designated as the new capital. However, the original capital is the one that counts. The player doesn't have to capture all of the enemy capitals himself; for example, if there are three players, and Montezuma captures Gandhi's capital, and then you capture Montezuma's capital while he's not looking, you win a Domination Victory.
Culture Victory requires construction of Utopia Project, unlocked by filling 5 of 10 Social Policy trees purchased with Culture.
Science Victory: Space race: build a starship and launch it towards Alpha Centauri. Each starship module produced must be transported to the Capital, allowing for hostile interdiction.
Diplomatic Victory: Win the United Nations vote. Each civilization (including city-states) now has only 1 vote. There is a progress screen (seen at right) that actually tracks the number of votes you have, so triggering an election can now be a reliable means of winning the game (instead of a completely blind roll of the dice as in previous versions).
Time Victory: Have the highest score at 2050 AD. You will not be able to play "one more turn" after a game ends because of time.
Map and Game Settings
Number of City-States is selectable (0-28)
Map Type: (default: Continents)

Archipelago
Continents
Earth
Four Corners
Fractal
Great Plains
Highlands
Ice Age
Inland Sea
Lakes
North vs. South
Oval
Pangaea
Small Continents
Terra
Tiny Islands
West vs. East
Random

Map Size: (default: Standard - 8 players, 16 city-states).

Duel (2 players, 4 city-states)
Tiny (4 players, 8 city-states)
Small (6 players, 12 city-states)
Standard (8 players, 16 city-states)
Large (10 players, 20 city-states)
Huge (12 players, 24 city-states)
Random

Difficulty Level: (default: Prince - Normal)

Settler
Chieftain
Warlord
Prince: Normal setting. Above this level, the AI will cheat.
King
Emperor
Immortal
Deity

Game Pace: (default: Standard)

Quick: 300 turns
Standard: 500 turns
Epic: 750 turns
Marathon: 1500 turns

Game Era: (default: Ancient)

Ancient Era
Classical Era
Medieval Era
Renaissance Era
Industrial Era
Modern Era
Future Era

World Age: (default: 4 Billion Years)

3 Billion Years
4 Billion Years
5 Billion Years
Random

Temperature: (default: Temperate)

Cool
Temperate
Hot
Random

Rainfall: (default: Normal)
Sea Level: (default: Medium)
Resources: (default: Standard)

Sparse
Standard
Abundant
Legendary Start
Strategic Balance
Random

Advanced Game Options (following items can be enabled or disabled)

Max Turns: User can specify a maximum number of turns, after which the game will end.
Complete Kills: In order to be eliminated from the game, a civilization must have all of its cities AND units destroyed.
Disable Start Bias: Disables matching civilizations to certain map conditions. Starts will be totally random.
Enable Turn Timer
New Random Seed: Allows for different outcomes to random events (such as combat) when reloading a game.
No Ancient Ruins
No Barbarians
No City Razing
One-City Challenge: Human players can only ever have one city.
Quick Combat: Disables combat animations.
Raging Barbarians: The rate at which Barbarians spawn is greatly increased.
Random Personalities: Instead of acting as they normally do, a random personality will be picked for each AI leader, making the game more unpredictable.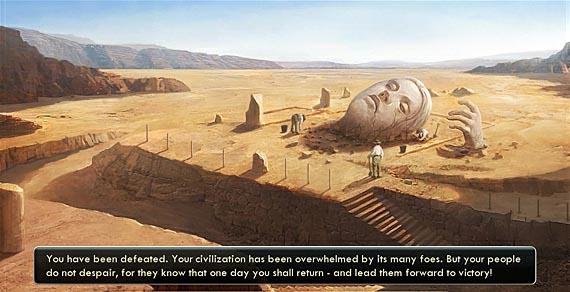 Modding
There is not much information on Modding other than it is supposed to have increased support in comparison to Civ IV.
In-game Mod Browser: there will be a service that modders can register their mods with, and there will be an in-game facility for downloading and activating them.
Civ IV Map Converter: this will work only for maps. You will not be able to convert Civ IV mods.
Lua scripting
"In-game community hub," whatever that means. Guessing this is some kind of Steam feature.
Steam
I guess I had to put this somewhere: Civilization V uses Valve's Steam service for digital rights management and online updates. All users (even those that buy the boxed DVD version of the game) will be required to register with Steam to activate the product, although it is possible after registration to play in offline mode. Consult Greg Laabs' Official Civ V Steam FAQ for further information.
AWOL Features from Civilization IV
The following is a list of features from Civ IV: Beyond the Sword that did not make a return in Civ V. This is not meant to be a negative thing, just information... I get a lot of questions about these items.
Religions: Not in the game. The developers felt that religions constituted an early "rush" and affected diplomacy in a binary way; other civs were either the same religion as you and liked you, or were a different religion and disliked you. With a greater emphasis on the diplomacy engine and the new City-States to help drive diplomacy, they felt that religions were a hindrance.
Corporations: Not in the game. Corporations were based on the Religion engine.
Espionage: Not in the game. There isn't even a Spy unit.
Vassal States: City-States operate in some ways like Vassals, but there is not any way of defeating a rival civilization except to completely destroy it.
Civics: Replaced by Social Policies.
City Health and Pollution: Replaced by an expanded Happiness system.
Global Warming is also gone. Take that, Al Gore!
Random Events: Not in the game. Garrett Bittner points out that most players found them to be an annoyance.
Wonder Movies: Have been replaced with single-image paintings.
Outtakes
The following are a few items that were seen in earlier screenshots prior to release, but were removed from the game or changed prior to release.
Early Spearman
The Spearman model pictured below was seen in early shots, but hasn't been seen recently, and didn't make it into the shipped version of the game. Notice also that the unit had 4 ranks of 4, whereas the current version has 3 ranks of 4.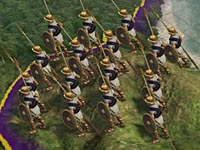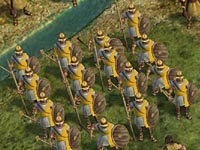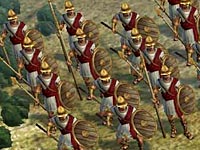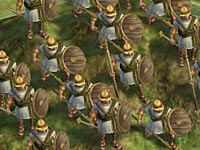 Early Settler
An early placeholder graphic for the Settler.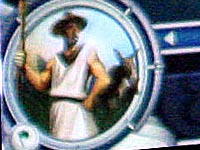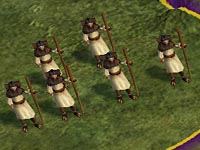 Jungle Flowers
These red flowers were seen in forest and jungle terrain in very early screenshots. They are not in the release version of the game.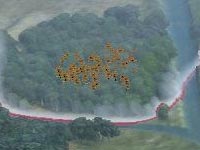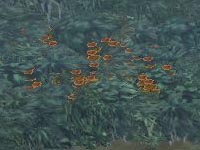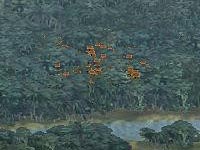 Saltpeter
This blotch was glimpsed in early shots on grassland and plains tiles. I thought perhaps it might be saltpeter (another throwback to Civ III), but it hasn't been seen in newer shots, and is not in the release version of the game.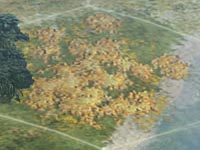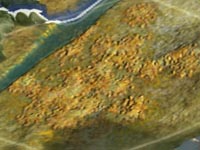 Early Ivory
A different version of the elephant graphic was seen in the early screenshots; it had four elephants instead of one.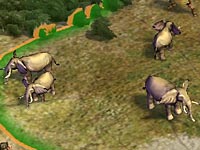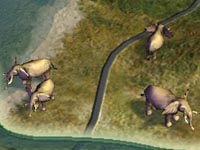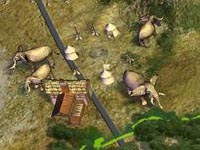 Mount Everest
Notes: Seen in-game in preview builds, but didn't make it into the final game.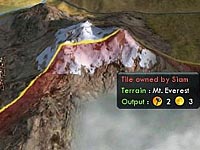 Lake Titicaca
Notes: This Natural Wonder was mentioned in a preview, but was not released in the game.