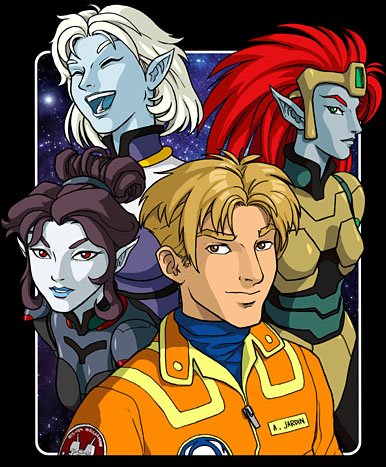 Outsider posts new pages (when available) on Mondays, but updates can be irregular, so I encourage you to use the RSS feed, Facebook or Twitter for notifications if you're interested in keeping up. [WIP Thread]
5 August 2019: New page: 160
I also updated page 159. Sorry for the delay. Try a hard browser refresh (Ctrl-F5) if you see older versions of the images that are not shaded.
1 July 2019: New page: 159
I expect to update page 159 with finished shading sometime later, but in case I don't get to it today, I've posted the flatted version for now.
10 June 2019: New page: 158
Ugh. It's summer already.
3 June 2019: New page: 157
27 May 2019: New page: 156
20 May 2019: New page: 155
13 May 2019: New page: 154
Don't try this at home, boys and girls.
6 May 2019: New page: 153
Since it's Cinco de Mayo, I will post the page a little bit early in case I am later waylaid by a wandering fiesta.
29 April 2019: New page: 152
22 April 2019: New page: 151
15 April 2019: New page: 150
It's been a long road to get to 150, but I feel like things are moving in the right direction. Thanks to all the readers who have stuck with the comic for this long, and in particular to all those who have given their generous support.
10 April 2019: Forum access should be restored, at least for the present. Looks like I will need to update to the current version of phpBB.
8 April 2019: New page: 149
I am still waiting on my webhost to perform a server rollback in an attempt to resolve the problems with the forums, so if this update temporarily disappears, do not be alarmed.
5 April 2019: I am aware of the issues that are currently affecting the forums. I am in the process of trying to work them out with the web host.
1 April 2019: New page: 148
No, really!