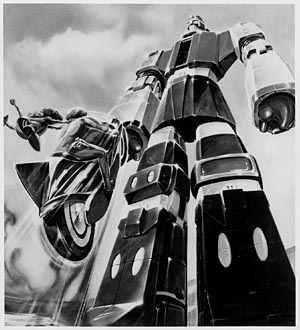 Welcome to the world of the 23rd century.
...a time of robots and aliens...
...and of destruction and terror. Can the Galactic Patrol, defender of the United Planets, stop the evil computer Umbra? You bet they can! They have Mighty Orbots, Champion of the Universe!
Mighty Orbots was a "transforming robots" animated series that ran on American television Saturday mornings for a single season in 1984-1985. Click below to learn more.
Site Updates
17 April 2007: I added some concept art and animation model sheets to the Archive section. Also, you can see Mighty Orbots on YouTube!
Meet the Orbots | Galactic Patrol | Shadow | Episode List | Series Credits | Archive | About the Site
---
This site is best viewed at minimum 800x600 resolution and 32K colors.
Mighty OrbotsŪ and assciated images are copyrighted properties of Intermedia Entertainment.
These pages were created on June 08, 1998. Last update: April 17, 2007
---